CNL Democompetition Results

The 4th Annual CNL Demo Competition
Ten different project groups were competing for the CNL Trophy in the "CNL Democompo" finals, which was held on 15th of December 2016 at VTT. The Trophy is awarded to the best technology demonstration voted by the audience.
The competition entries varied from 5G radio and antenna solutions to cyber security, quality of service, IoT and gaming applications. The 5G development was one of the main topics also this year.
Backgroud
The demo competition event has been now arranged in four consecutive years. The idea for such event realized about 5 years ago when we had some discussions in our management team about the lack of information exchange between our researchers, line managers, customer services and business development. The traditional seminar presentations seemed to be too stiff and insufficient to inveigle people into good discussions. So, we wanted to try something else and to do it in little bit more "tongue-in-cheek" style.
The idea for competition came up from mixing the "old school" computer demoparties' demo compos with our traditional ICT demo presentations. One of the main targets was also to push the demonstrations and presentation towards more visual and easily understandable form.
The first event was purely VTT's internal, targetting for information exchange and co-operation between different research projects' researchers in Communication Networks research area.
For the second year, the event was enlarged to cover also other projects, which were utilising the CNL test network services and were related to our ICT research.
The third "Demoparty" was the first event, which was also open to our customers and project cooperation partners. We hope that in future we can extend the event to include even more collaboration with our partners.
Final Results
The final standings based on the voting results:
Winner:

5GTN Monitoring - The Gaming Use Case




1st Runner-up:

Smart 2.4GHz Antenna for Direction of Arrival Estimation Algorithm




2nd Runner-ups:

Cyber Security Fish Tank - Tietoturva-akvaario

&

Crowd Interaction with TinyNode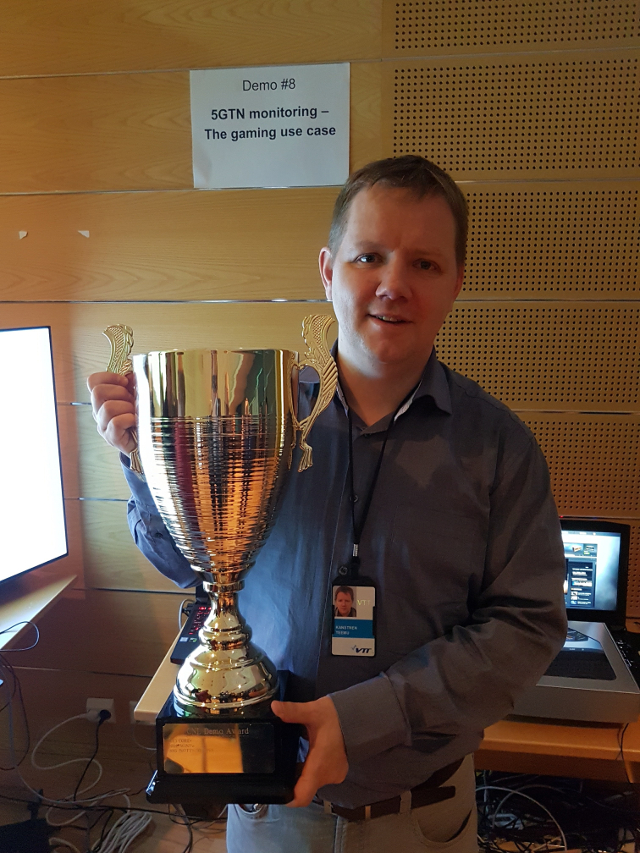 Teemu Kanstrén, the leader of winner team with CNL Trophy